Hello, I am Emilia – embarking on a journey to expand my food industry knowledge, aspiring to become a future doer in the field and an enthusiastic solution-finder. As my thrilling months as a Business Development trainee in the VTT-led EIT Food Accelerator Network program have come to an end, now is the perfect time to share my journey.
Becoming a part of VTT Summer of Changemakers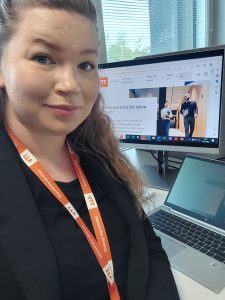 My journey into the EIT FAN program began when a friend mentioned that VTT was looking for a Business Development Trainee in their Summer of Changemaker trainee program. This position combined my background in food science, soon starting business studies, and prior volunteer experience in project coordination. And as a cherry on top, it offered me the opportunity to catch a glimpse of the startup world, which has always piqued my interest in entrepreneurship. Therefore, there was no other choice but to apply – and luckily, I landed the job.
Soon after, I joined the EIT FAN Helsinki team in April. I dived straight into the final evaluation round of program applicants. In this two-step process, twenty startups were selected for the evaluation day. There, the start-ups pitched and answered a bunch of tough questions regarding their solution, technological readiness, business cases, and motivation for the program. This immediately provided me with the opportunity to learn and gain a fresh perspective on the future of food.
Not to forget, it was impressive to see that the competition was fierce, as many of the startups were an excellent fit for the program. This fact resulted in the top ten startups being of extremely high quality.
Dynamic days and diverse roles
The diversity of each day proved to be enriching. Although each day differed, many of them involved drafting materials and informational letters, followed by emails and problem-solving. Afternoons were often dedicated to various program activities, workshops, and meetings. Particularly exhilarating were the months when the EIT FAN program was in full swing. During these days, a whirlwind of activity characterised by a fast pace and constant dynamism was the norm.
In essence, my internship covered various aspects, including supporting the program's execution and participating in communication and marketing efforts. Following the conclusion of the EIT FAN program, I conducted background research and developed a program model proposal for another project. The execution of the EIT FAN program encompassed tasks such as event planning, meeting coordination, database maintenance, and program reporting.
Beyond the Program: expanding horizons and learning
This experience enriched the insights gained from my master's studies by providing numerous "aha" moments and offering a unique perspective within the cohort. The ten remarkable startups all share a common purpose: shaping the future of food. This year, the focus was on scaling the alternative protein revolution. Based on this experience, I would say it has much to do with selecting ingredients that create desirable taste and texture, as well as finding solutions that have a positive impact on our environment while moving forward with the technology.
While it granted me insight into the food industry, I also gained an understanding of what it means to be a changemaker. These ten startups served as excellent examples of changemakers – individuals who aspire to drive change, leave an impact, and take action to bring about that change. As this is never a straightforward process, changemakers require support and collaboration to effect change and create a more favourable environment around them. Bringing their visions to fruition involves extensive R&D work, attracting investors and partners for collaboration. On top of that, it also means regulation changes and consumer acceptance while finding the right customers.
The power of network
However, this role encompassed much more due to the people involved; it served as a gateway to a network of inspiring individuals and unforgettable events.
As part of my responsibilities, I had the privilege of contributing to the organization of the inaugural International Cellular Agriculture Conference and the weeks that startups spent in Finland. Beyond these events, I had the opportunity to collaborate with the EIT FAN Helsinki hub team and to connect with startups, content creators, individuals from EIT Food, teams from other hubs, corporate partners, VTT experts, and investors. As you can see, a comprehensive network is essential to facilitate the program and showcase its solutions. This network plays a vital role in supporting actions, sharing knowledge, and enabling collaborations.
Various perspectives, understandings, and possibilities collectively bolster the startups – the changemakers – in reshaping the future of our food.
Heading towards future Adventures
As my internship draws to a close, I extend my gratitude to VTT, the EIT FAN Helsinki Hub, and the EIT Food for this incredible opportunity. This experience has truly enriched my understanding of the food industry. It has equipped me with a versatile skill set, a broader perspective, and great connections. Because of the program and the startups, the VTT Summer of Changemakers has offered me a glimpse of how I can become a changemaker myself.
Now, it's time to delve into the realm of my master's thesis. I am eagerly anticipating the next chapter – pursuing my master's degree on one hand and embracing new challenges on the other. Building upon this experience, my aspiration is for the next chapter to blend business development with the food industry. Once again, I extend my gratitude to all those who were part of my trainee journey, and to you, the reader, for immersing yourself in my experience!
Written by Emilia Nordström